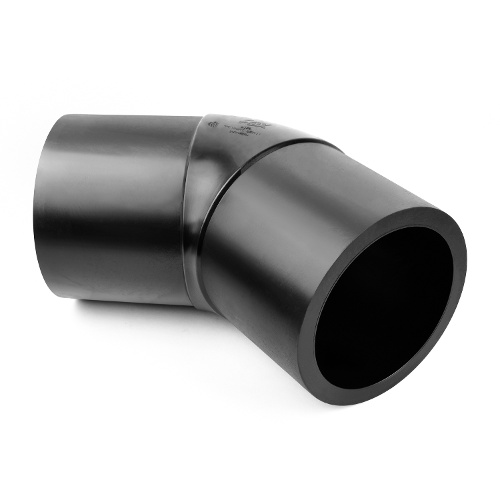 45 Degree Elbow
Long Spigot Fittings
Long spigot 45deg elbows are often overlooked, The Forty-Five-degree angle can be utilised in so many problem-solving applications. For example, offsetting to align two pipes, jump ups or jump overs where two pipe cross each other pipe at the same level. Installing two forty-five-degree elbows can be used to solve a blockage or backing up issue at a 90deg change in direction. Using 2 x 45deg elbows instead of 1 x 90deg elbow or bend will also reduce the friction loss. that can reduce pressure & flow in pipelines. Being quality injection moulded gives the assurance of full pressure rating & the long spigots delivers the flexibility of Fusion Welding & joining options to pipe & other fittings. The Elongated spigots or long tails enable many fusion options, weldable by Butt Welding or Electrofusion Couplers & Sockets.
Advanced Piping Stock 45deg Elbows from 20mm – 355mm in SDR11, 63-315mm IN SDR17 & PN25 20-355mm High Pressure. Larger 45deg elbows are available in sizes up to 630mm.
Read More
Compliance
Our products are tested regularly for high quality, durability, performance and safety.
Articles
One of the most common challenges we see in the field is ensuring successful joints in HDPE fittings and pipe systems. Our Sales Executive, Karl …