Electrofusion Elbows 90 Degree
39.5V Electrofusion System
Ninety-degree elbows are at the top of most fitting lists, or bill of materials, as such, Advanced Piping offer 10 options in this one fitting. From an EF elbow to a 90-degree sweep bend, we cover them all. In electrofusion, Advanced Piping Systems' EF elbows have all the benefits of electro-fusing your PE pipeline with the minimisation and space saving of one very compact fitting.
Each customer has their own unique needs, in term of which sizes they would like to electro-fuse, our 90-degree elbows are available from 20mm up to 315mm. Sizes 125mm and 180mm are very common for use in fire main installations, where a single hydrant riser is installed. PE100 is an excellent permanent option to blue brute and OPVC rubber ring jointed systems. We say "fuse it or you can lose it". In 45-degree EF elbows, the compact size and limited tooling required in an EF weld in trench make installations at heights such as boom lifts, scaffolding, or scissor-lifts safer and more easily achievable. See our complete range of scrapers, clamps and EF welders in our Machinery section. Our team of trusted advisors can help you select the best end-to-end solution for your PE100 installation.
Read More
Compliance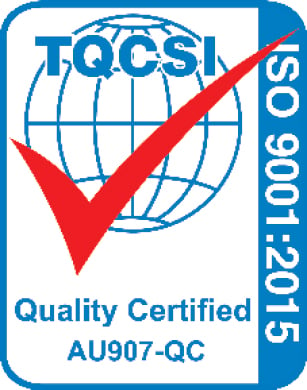 Our products are tested regularly for high quality, durability, performance and safety.
Articles
One of the most common challenges we see in the field is ensuring successful joints in HDPE fittings and pipe systems. Our Sales Executive, Karl …