Fabricated Equal Tees
Fittings Made from Pipe
Larger equal tees manufactured from pipe can offer an alternative to moulded tees. Fabricated equal tees as per the POP006 Guidelines should be derated by 50% or rated to .5 of the pipes' original class. This means that a tree manufactured from SDR11 PN16 or SDR 17, PN10 pipe would be rated conservatively at 8bar 800KPA. For this reason, we recommend moulded tees are used where possible. Obviously, fabricated tees have their place, and many projects are low-pressure open-ended pipe systems, where fabricated tees are adequate.
In larger sizes, where moulded fittings are not available a higher-pressure class is required, APS can also manufacture tees from PN20 or PN25 pipe so they can still achieve PN10 or PN12.5 with the 50% deration. The ergonomic dimensions of our fabricated tees allow for both the main line and branch to be set up in a buttwelder, without needing extra short fittings clamps. This also means the tees can be welded into the mainline pipe strings. Due to the centre branch's extra length it is easy to pick the pipeline and then weld the branch with less flexible buttwelding machines, such as a Dixon. In addition to equal tees, APS also fabricate double tees or cross pieces up to 1000mm.
Read More
Compliance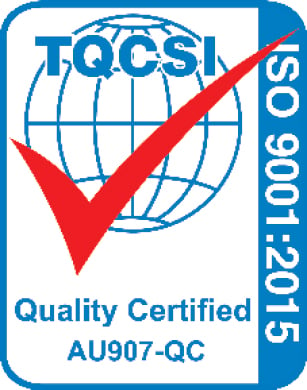 Our products are tested regularly for high quality, durability, performance and safety.
Articles
One of the most common challenges we see in the field is ensuring successful joints in HDPE fittings and pipe systems. Our Sales Executive, Karl …