PE100 Male BSP Threaded Adaptors
Long Spigot Fittings
Every Advanced Piping Systems' poly threaded adaptor is manufactured from an injection moulded PE100 billet that is then time stabilised (up to 3 months depending on the size) prior to the CNC machining of the thread.
This two-step process is very important to achieve a perfect thread and gives you the very best high-strength thread, which is manufactured from the same high-performance material as the PE100 pipe system itself.
Our large range ensures that when required you have threads with the non-corrosive and acid resistant properties that the PE100 piping system gives. The elongated spigots on all our adaptors are suitable for both buttwelding and electrofusion welding. T
he large reinforcing boss behind the male thread has been engineered for added fitting hoop strength, and resistance to pressure, this boss can also be useful to fabricators and can be used as an extrusion welding boss when welding into tanks and bins.
The SDR11 PE100 threaded fittings are rated to 10 bar/1000kpa with liquids, and have the Watermark quality approval for safe use on potable water and plumbing systems. For PN16 rated threads please see our 316 stainless steel and brass threaded adapters, also available in the exact same size range from 20mm poly x 1/2"/15mm BSP to 125mm Poly x 4"/100mm BSP. NPT threads are also available and specially manufactured to order.
Read More
Compliance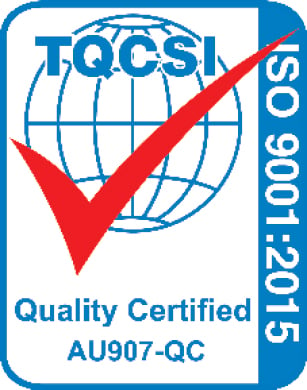 Our products are tested regularly for high quality, durability, performance and safety.
Articles
One of the most common challenges we see in the field is ensuring successful joints in HDPE fittings and pipe systems. Our Sales Executive, Karl …